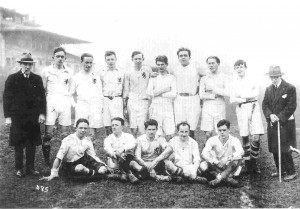 Formed in 1923 by English Ex-pats living and working in Paris The British Rugby Club of Paris is a team steeped in History and, though briefly suspending its activities during the Second World War, has operated continuously for over 95 years.
The club recently joined the Top 14 of the Fédération Française du Sport d'Entreprise Corpo League, in which it competes against other teams in Paris and its suburbs after many years in the FFR Club du Samdei. The team have been very competitive in both competitions winning top honours a number of times.
The BRFC also regularly hosts visiting teams, particularly during international match weekends, and Tour at least once every season, visiting places as diverse and fun places as Cardiff, Amsterdam, Madrid, Rome and Bayonne.
The club has long prided itself on it's excellent atmosphere both on and off the field and is well known for it's "Esprit d'Equipe". As one of the most inclusive clubs in Paris the British Rugby Football Club of Paris reflects the thriving international community in Paris welcoming players of all nationalities and ability.
For information about the club, please fill in the form below :